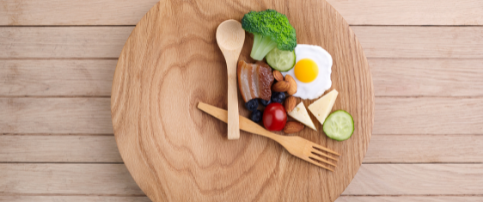 Post przerywany (Intermittent Fasting) – jak i kiedy go stosować?
Ostatnim czasem pojawia się tyle nowych trendów żywieniowych, że ciężko nad nimi nadążyć. Coraz to nowe i inne. Dziś poruszymy temat postu przerywanego. Brzmi ciekawie? Rzekomo odpowiednio przeprowadzony post ma pomagać w utracie wagi, ale czy na pewno? Zapraszam Cię do artykułu, w którym dowiesz się, na czym polega post przerywany oraz komu jest dedykowany.


Na czym polega post przerywany?
Jest to model żywieniowy, uwzględniający wyłącznie czas spożywania posiłków. Oznacza to, że mamy wyznaczone określone godziny, kiedy możemy jeść (tzw. okno żywieniowe). Pomiędzy oknami żywieniowymi jest czas przeznaczony na post.
Zasady postu nie uwzględniają dokładnego rodzaju produktów, jakie powinniśmy spożywać. Słuchając się głosu rozsądku, pewnie wiesz, że nie może być to byle jaka żywność. Jakie korzyści da nam post, skoro w trakcie okna żywieniowego zjemy dużą czekoladę, paczkę chipsów i garść solonych orzeszków? Najpewniej żadne. Zacznij od zmiany starych, nieprawidłowych nawyków żywieniowych, na nowe.
Przedstawię Ci 5 prostych kroków. Przestrzegaj ich w swojej codziennej diecie:
1. Spożywaj 3-4 posiłki dziennie w regularnych odstępach.
2. Podstawę Twojego posiłku powinny stanowić pełnoziarniste produkty zbożowe.
3. Do każdego posiłku dodaj warzywo lub owoc.
4. Wypijaj codziennie 2 litry wody (napojom słodzonym powiedz stanowcze nie).
5. Zamień smalec i tłuste mięso na oleje roślinne z chudym mięsem.
Zasady te są bardzo proste i wierzę, że będziesz się ich trzymać. Wracając do postu przerywanego, może być on dobrym rozwiązaniem na odchudzanie, ale nie musi. Schudniesz niezależnie od pory jedzenia. Jednak, jeżeli będziesz sumiennie trzymać się postu, to maleje ryzyko na nocne podjadanie. Wyróżniamy 2 najpopularniejsze rodzaje poszczenia, które zakładają konkretną liczbę godzin lub dni, w których trakcie możemy spożywać posiłki. Post przerywany, poza wspomaganiem w redukcji wagi, może poszczycić się również innymi efektami na tle zdrowotnym.


Czy można coś jeść lub pić w trakcie postu?
Podczas poszczenia dozwolone jest wyłącznie picie wody, herbaty, kawy i naparów ziołowych. Należy unikać spożywania napojów zawierających cukier lub sztuczne substancje słodzące oraz soków owocowych, soków warzywnych i mleka.


Rodzaje postu przerywanego.
Istnieje wiele form postu przerywanego. Dziś skupimy się na tych najpopularniejszych, o których najczęściej słyszymy:
Post w formie 16/8 – kiedy jest najbardziej skuteczny?
Post przeprowadzany w tej formie jest najczęściej stosowany wśród osób odchudzających się. Polega on na spożywaniu posiłków przez 8 godzin oraz poszczeniu przez następne 16 godzin.
Przykładowo, jeżeli spożywamy pierwszy posiłek o 10, to ostatni posiłek powinniśmy spożyć maksymalnie o 18. To jak rozłożysz posiłki w trakcie okna żywieniowego, zależy od Ciebie. Sama decydujesz, co i kiedy jesz.
Dieta w trakcie okna żywieniowego musi być odpowiednio zbilansowana, jeśli będziesz spożywać produkty bogate w cukier, tłuste, mało wartościowe i wysokokaloryczne, to post przerywany nie przyniesie Ci żadnych efektów.
Gdy twoim celem jest zrzucenie zbędnych kilogramów, to ta forma postu może Ci pomóc, ale nie daj się zwodzić, nie jest to niezbędny dodatek do diety redukcyjnej. O tym ile będziesz chudnąć, decyduje wyłącznie ujemny bilans kaloryczny. Jeżeli masz problemy ze schudnięciem, mimo deficytu kalorycznego, to warto udać się na podstawowe badania krwi lub do lekarza.
Post w formie 5:2
Ta odmiana postu przerywanego polega na spożywaniu posiłków dowolnie przez 5 dni w tygodniu, niezależnie od godziny. Z kolei 2 ostatnie dni przeznaczone są na spożywanie 25% tego, co jadłeś wcześniej. W przypadku kobiet będzie to około 400-500 kalorii, a mężczyzn 600-800 kalorii. Oznacza to, że w trakcie tych dwóch dni możesz zjeść 1-2 posiłki. Ta forma postu nie posiada wyznaczonego okna żywieniowego, a więc posiłki możemy spożywać o dowolnej porze.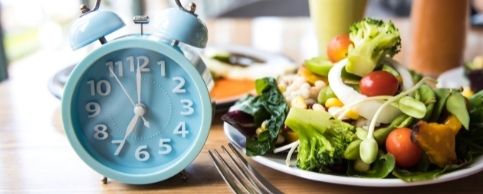 Post przerywany – czy warto?
Jeżeli chcesz stosować ten sposób żywienia ze względu na możliwość utraty wagi, to wiedz, że tak naprawdę nie ma znaczenia, o której godzinie spożyjesz posiłek. Post przerywany wydaje się kuszącą formą. Może mieć korzystny wpływ na redukowanie tkanki tłuszczowej, dzięki ściśle określonym godzinom na posiłki. Oznacza to, że nie ma w nim możliwości na nocne podjadanie, poza oknem żywieniowym (jeżeli jesteśmy wytrwali w swoich postanowieniach).
Zalety postu przerywanego:
ułatwia utrzymanie diety odchudzającej – bardziej unikamy wieczornego podjadania, trzymamy się godzin posiłku
zmniejszenie łaknienia – organizm przyzwyczaja się do postu, wraz z kolejnymi dniami mniej odczuwamy głód wieczorem
lepsze samopoczucie oraz koncentracja.
Wady postu przerywanego.
Jeżeli post był prawidłowo przeprowadzony, to nie powinniśmy mieć obaw co do skutków ubocznych. Najczęściej pojawiającym się działaniem niepożądanym postu przerywanego są bóle i zawroty głowy. Zbyt długie rygorystyczne posty, mogą prowadzić do niedokrwistości, problemów z trawieniem, osłabienia odporności oraz zbyt dużej utraty masy ciała.
Post jest zabroniony u:
Dzieci i młodzieży
Kobiet w ciąży
Cukrzyków
Hipoglikemia reaktywna
Osób, które przeszły zawał serca lub udar
Anorektyków
Osób z zaburzeniami odżywiania
Sportowcy.
Post przerywany stosowany przez kobiety oraz młode dziewczyny może doprowadzać do zaburzeń hormonalnych. Na dłuższą metę, regularne poszczenie może skutkować zaburzeniami miesiączkowania oraz pogorszeniem się mineralizacji kości.
Poszczenie podnosi poziom kortyzolu (hormonu stresu). Jeżeli twoje życie i tak jest stresujące, mało śpisz, sporo trenujesz lub pijesz bardzo dużo kawy, to odpuść sobie ten sposób żywienia. Spożywaj regularne i pełnowartościowe posiłki.
Gdy jesteś sportowcem, to musisz być stale zasilany energią. Aby odpoczynek po treningu był efektywny, a zasoby energetyczne szybko się odbudowały, to musisz spożyć posiłek. Post przerywany daje zbyt duże ograniczenia, co mogłoby skutkować brakiem energii w trakcie aktywności fizycznej. Podczas zaburzeń węglowodanowych (cukrzyca, hipoglikemia reaktywna) należy unikać głodzenia się, po których następują obfite posiłki. Po 16-godzinnym poście nagle spożyty posiłek spowoduje znaczny wzrost glukozy we krwi, niosący za sobą groźne konsekwencje zdrowotne. Regularne posiłki o niskim indeksie glikemicznym będą utrzymywały glukozę na stałym poziomie.


Podsumujmy, kiedy i jak stosować post przerywany?
Post przerywany jest określonym harmonogramem spożywania posiłków oraz można go łączyć z innymi dietami. W trakcie postu należy zadbać o rodzaj spożywanego pożywienia. Najlepiej, żeby były to posiłki o niskim indeksie glikemicznym, składające się z pełnoziarnistych produktów zbożowych i warzyw.
Post może okazać się skutecznym narzędziem w przypadku osób odchudzających się. Nie jest jednak on na tyle niezbędny, żeby nie dało się bez jego schudnąć. Spadek wagi będzie porównywalny, stosując samą dietę redukcyjną oraz stosując ją w połączeniu z postem przerywanym. Musisz ocenić sam, czy post przerywany może być dla Ciebie skuteczny.
Literatura:
1. M. Mosley, M. Spencer, ,,Dieta 5:2 dr. Mosleya. Zrzuć kilogramy i ciesz się zdrowiem oraz długim życiem dzięki sporadycznemu niedojdaniu", 2013 r.
2. Y. Cho, N. Hong, K. Kim et al. The Effectiveness of Intermittent Fasting to Reduce Body Mass Index and Glucose Metabolism: A Systematic Review and Meta-Analysis. J Clin Med. 2019 r., 8(10)
3. M. Stockman, D. Thomas, J. Burke, C. Apovian, Intermittent Fasting: Is the Wait Worth the Weight?. Curr Obes Rep. 2018 r., 7(2)
4. A. R. Barnoskya, K. Hoddy, T.G. Untermana,K.A. Varady Intermittent fasting vs daily calorie restriction for type 2 diabetes prevention: a review of human findings. In-Depth Review: Excess Adiposity and Disease, 2014