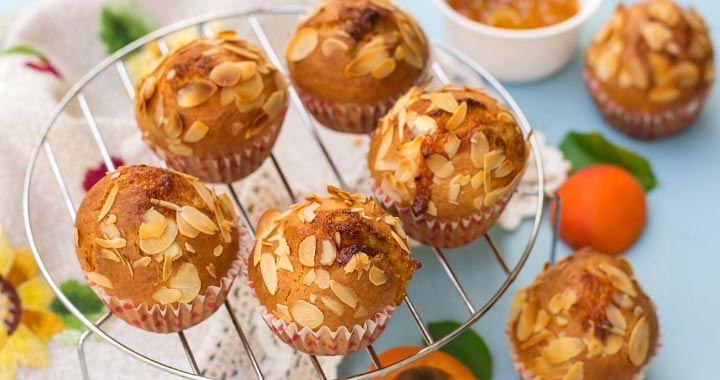 Muffinki upieczone z mąki migdałowej to doskonały pomysł na bezglutenowy deser do kawy.
Robi się je bardzo szybko i prosto, a owoce moreli nadają im nieco kwaskowaty smak.
Morele możesz zastąpić również brzoskwiniami czy sezonowymi śliwkami.
Składniki (na ok. 10 muffinek)
140 g płatków migdałowych (odjąć łyżeczkę do posypania) – zmielonych na mąkę
60 g oleju kokosowego – rozpuszczonego
3 łyżki ksylitolu – można zwiększyć, jak lubisz słodsze
starta skórka z połowy pomarańczy lub esencja pomarańczowa
3 białka
szczypta soli
3-4 morele lub śliwki, bądź 2 brzoskwinie
Przygotowanie:
1. Zmiel migdały i przesiej przez sitko. Przez sitko przesiej ksylitol puder – jeżeli używasz ksylitol w kryształkach, to go nie przesiewaj.
2. Ubij białka ze szczyptą soli na sztywną pianę.
3. Do migdałów wlej olej kokosowy, wrzuć skórkę z pomarańczy lub dodaj esencję pomarańczową. Dodaj białka i delikatnie połącz masę.
4. Wyłóż ciasto do silikonowych foremek do 3/4 wysokości. Morele pokrój na pół, a potem na ćwiartki. Ułóż owoce na wierzchu muffinek i posyp je migdałami.
5. Piecz w temperaturze 180 stopni ok. 35 minut – do suchego patyczka.
Smacznego!
Zajrzyj na moje social media: