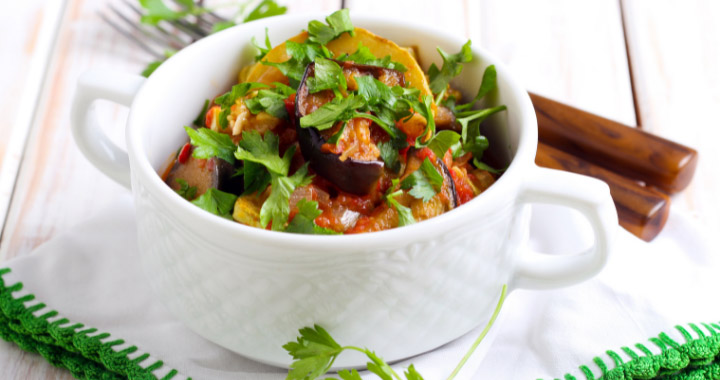 Jeżeli Tobie też feta kojarzy się głównie z sałatką grecką, to koniecznie musisz wypróbować ten przepis.
Dziś mam dla Ciebie pyszną zapiekankę bez mięsa, za to z pysznymi warzywami, których niestety większość rzadko używa w kuchni.
Warzywna zapiekanka z fetą to pyszna bezmięsna propozycja na obiad.
Spróbuj, a jestem przekonana, że Ci zasmakuje
Składniki (dla 3-4 osób):
1 bakłażan
2 cukinie
1 czerwona papryka
1 żółta papryka
200g sera feta
oliwa z oliwek (4-5 łyżek)
3 ząbki czosnku
garść czarnych oliwek (bez pestek)
świeży tymianek (4-5 gałązek)
sól
Przygotowanie:
Rozgrzej pierkanik do temperatury 200 stopni.
Warzywa umyj i pokrój w paski (ok. 4-5 cm) dodaj oliwki przekrojone na połowę oraz obrany i rozgnieciony czosnek, gałązki tymianku i odrobinę soli.
Umieść składniki w naczyniu żaroodpornym, całość skropl obficie oliwą z oliwek i wymieszaj.
Wstaw do piekarnika na 10 min, po tym czasie na warzywach ułóż dość cienkie plastry sera feta i wstaw ponownie do piekarnika na 10 min.
Zapiekankę jedz na ciepło lub na zimno ozdobioną świeżymi listkami bazylii.
Smacznego!
Zajrzyj na moje social media